The Angling Images of
Ten of America's Most Famous Sporting
Artists in One Beautiful Volume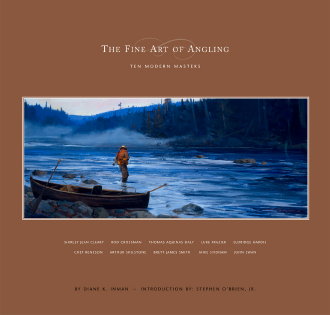 THE FINE ART OF ANGLING
Ten Modern Masters
By DIANE K. INMAN

With an Introduction by
Stephen O'Brien, Jr.
---
Click here for a PDF brochure.
It is undisputed that American sporting art has become collectible fine art in the twentieth century. Featured in The Fine Art of Angling are ten of the most important artists in the genre: Shirley Cleary, Rod Crossman, T.A. Daly, Luke Frazier, Eldridge Hardie, Chet Reneson, Arthur Shilstone, Brett Smith, Mike Stidham, and John Swan. Each chapter reveals biographical information as well as discussions of the artistís range and style. The hard-bound volume contains 216 pages and over 100 angling images.
The book is available in the standard hard-bound trade edition at $75, or in a handsome collectible edition of 300 at $250. The signed and numbered, leather-bound collectible edition comes in its own leather clamshell box and includes reproductions of ten original sketches executed by the artists exclusively for inclusion in this volume.
Advance Orders are available from the publisher. (Publication date October 2007)
Reserve your copy early. Quantities are limited.
---

You can order your copies of The Fine Art of Angling: Ten Modern Masters by telephone or U.S. Mail directly from the publisher:

Di-Les Books
P.O. Box 6757
Incline Village, NV 89450

775-831-6248






Back to home.